Hey everyone! Are you keeping cool in this hot summer weather?
I've been chillin' on my summer vacation for about a week now, dividing my time between addictive gaming on
Animal Crossing: New Leaf
(if you play, friends code please!), studying Japanese, and working on my Hawthorn bodice muslin.
My Hawthorn has been a challenge in fitting. I'm still a beginner sewist with limited knowledge on fitting to my body. Up until this point, I haven't made a lot of form-fitting clothing, since loose and roomy is more my style (especially in the summer!). I took a step back from my test Hawthorn and decided I needed to really study more about fitting myself and altering patterns to fit me well. Yesterday, I pulled out my handy copy of
Fit for Real People
and finally did the body graph exercise I bookmarked ages ago.
The body graph is an outline of your body that helps you identify your proportions and shape. You've probably heard body shapes categorized as "hourglass," "pear," "apple," etc. (What is with all the fruits?) Body graphs help you determine your shape and body proportions. To do this, you tape some tracing paper to the wall and have someone trace you. Then, you fold the drawing into 8 equal parts, since the average person is eight heads tall. Next, you compare where certain parts of your body fall within these 8 parts to get an idea what is short, long, and average in proportion. The book Fit for Real People explains the process completely and provides you with a handy chart to fill out with your measurements.
Do you want to see my body graph? I cringed to see my shape drawn on paper in actual size, but it wasn't that bad, and I was surprised what I learned about it. Excuse the frankensteined tracing and copier paper... I ran out of tracing paper.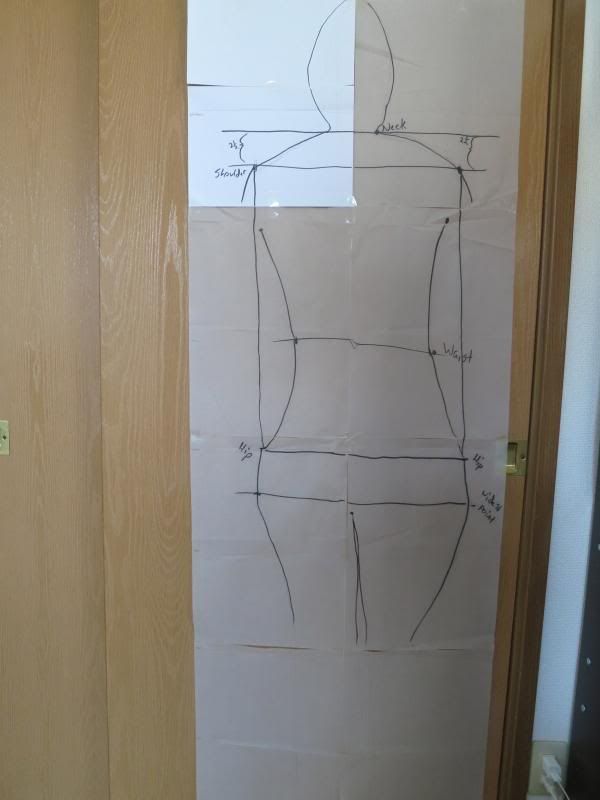 What was I surprised about with Paper Ashley? Well, I always thought I was a pear shape and my shoulders were smaller than my hips... nope! I'm an hourglass, in spite of my junk in the trunk. I always thought my waist was high too, but I'm a bit long-waisted. My upper legs are short but my lower legs are average size. My shoulders are sloped but I already knew that, since I sometimes fight to keep purses hung on my shoulder. Finally, I learned my husband tracing volunteer is a terrible artist: you can't see it well, but he traced my head quite narrow, like a pencil eraser. I went back and used my best judgement to give myself a proper head on my shoulders.
Overall, this body graph gives me a better idea of my shape, and what I may have to lengthen, shorten, and alter on patterns. I highly recommend this book, especially if you want to learn how to get a good fit for yourself! This body graph was also an exercise in accepting myself, and the more I sew, the more I learn to accept my body. There's nothing like the confidence boost of wearing a one-of-a-kind outfit that fits you well and looks fabulous!
I'm hoping to take a Craftsy class to get a bit of practice in pattern fitting, but otherwise I'm teaching myself using trial and error and the Fit for Real People book.
For my fellow sewists out there, how did you learn to fit, and what's your typical process?
P.S. Like my new blog banner? Lots of love to my lil sis
Mae
for it!