Taka and I took a weekend jaunt up to Niigata City in Niigata Prefecture.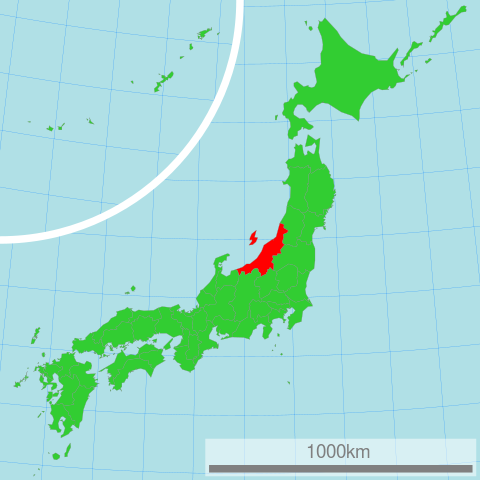 Source: Wikipedia
It wasn't really a jaunt... it was a 5 hour ride via shinkansen (bullet train). We had to change trains in Tokyo and we had the chance to ride something I'd never had the pleasure of: a double decker shinkansen! It was nice to go by rail, since driving would have taken MUCH longer. It reminded me of riding the Eurostar on our honeymoon trip.
Unlike our honeymoon trip, though, this trip was quite leisurely. Niigata isn't much of a tourist spot, unless you're like me and a foodie looking to try some unique local cuisine. My first stop was to try Niigata's fast food: yakisoba italian.
What can I say about yakisoba italian? It's yakisoba (fried noodles with cabbage and bean sprouts) with a twist: it's topped with a spaghetti sauce. In the photo, the top left is the traditional meat and mushroom sauce while the right is a curry/spaghetti sauce mix. This might seem like a wacky mix of east and west, but it's quite good. I actually liked the spaghetti sauce one more than the Japanese curry sauce.
Eating our way around Niigata, we tried popoyaki, which I unfortunately didn't grab pictures of. It's a long bread stick flavored with brown sugar. It's worth mentioning, but I didn't find it special enough to make my photo cut. We hunted down a cafe I saw in a guidebook that seemed to be named for me.
They have lots of dessert pancakes, and so we tried the summer seasonal lemon creme and nuts pancake. Words can't describe how great it was, so enjoy a mouth-watering picture.
I swear we did other things besides eating (though we planned a lot around that activity). We enjoyed the view of the city and the sea from the tall media building. My husband nicknamed this island part of the city Manhattan because of their similarities.
We also took a ferry bus around the river in the above picture. I took a lot of ferry photos, but I liked this picture since the hubby had no idea I had taken it.
During our trip, we crossed a few prefectures I've never been to, but since we didn't officially stop and visit them, I can't cross them off my list. Only Niigata gets crossed off this time! We're already planning another trip this August during the big holiday of Obon. We're going to go to Kanagawa Prefecture and visit Yokohama, the big port city near Tokyo. I'm pumped to go see the ramen museum there, which a friend told me about and I've seen on television a few times. Summer vacation can't come soon enough. I'll be counting the days until the end of July!